Mobile Wire Carts
Wire Shelving mobile multi-shelf carts for assembly operations, order processing, work in process staging, cleanroom,
electronics, pharmaceutical, healthcare and food service. Make your storage mobile with wire shelving carts from Eagle Group.
Mobile Wire Carts
These sturdy, mobile four-shelf carts are available in Bright Zinc or Chrome consist of (4) - 63" posts, (4) - Shelves,
Donut Bumper and 5"x1 1/4" Polyurethane Casters with locks. No tools necessary for assembly.
Shipped Knocked Down.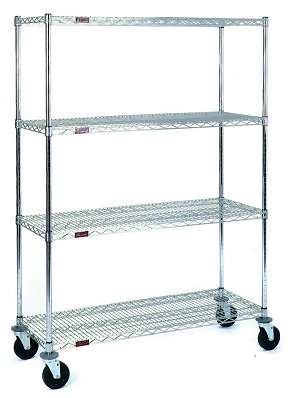 Size
Stem Caster

Eagle-Brite Zinc
63" High Posts
Overall Height: 69.5"

Chrome
63" High Posts
Overall Height: 69.5"

Part No.
Wt ea
Price each
Part No.
Wt ea.
Price each
18"x36"
5"x1 1/4" Polyurethane with brake
CC1836Z-SBP
58.0
271.10
CC1836C-SBP
58.0
274.30
18"x48"
5"x1 1/4" Polyurethane with brake
CC1848Z-SBP
70.0
296.05
CC1848C-SBP
70.0
303.30
18"x60"
5"x1 1/4" Polyurethane with brake
CC1860Z-SBP
86.0
324.15
CC1860C-SBP
86.0
330.95
21"x36"
5"x1 1/4" Polyurethane with brake
CC2136Z-SBP
67.0
289.25
CC2136C-SBP
67.0
301.05
21"x48"
5"x1 1/4" Polyurethane with brake
CC2148Z-SBP
79.0
311.00
CC2148C-SBP
79.0
326.40
21"x60"
5"x1 1/4" Polyurethane with brake
CC2160Z-SBP
96.0
345.90
CC2160C-SBP
96.0
358.15
24"x36"
5"x1 1/4" Polyurethane with brake
CC2436Z-SBP
74.0
298.75
CC2436C-SBP
74.0
311.00
24"x48"
5"x1 1/4" Polyurethane with brake
CC2448Z-SBP
90.0
314.20
CC2448C-SBP
90.0
343.20
24"x60"
5"x1 1/4" Polyurethane with brake
CC2460Z-SBP
110.0
367.65
CC2460C-SBP
110.0
379.90
Back to Material Handling Products

Back to Home Page

Last updated 2/26/18
Copyright equipmentandsupply 2014