Wire Utility Carts
Wire Utility carts for all types of service cart applications in healthcare, manufacturing,
and assembly applications
Wire Utility Carts
Transport goods with highly maneuverable utility carts. Use in mailrooms, retail operations, offices and more. Store and transport goods with ease.
Wire utility carts are small enough to keep in out of the way locations yet provide the convenience of moving small amounts of goods with ease.
Two different capacities to choose from:
Medium duty 500# capacity and Heavy duty 800# capacity.
Zinc and Chrome available.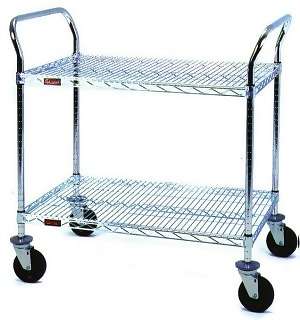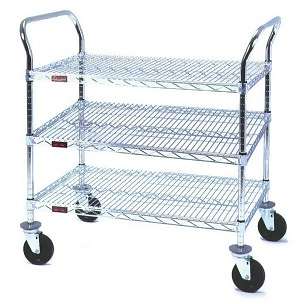 Size
Caster

Eagle-Brite Zinc
40" overall height

Chrome
40" overall height

Part No.
Wt ea
Price each
Part No.
Wt ea.
Price each
Medium Duty - 500# Capacity
2 Shelf Models
18"x30"
4" Rubber
500#
EU2-1830Z
35.0
141.00
EU2-1830C
35.0
142.35
18"x36"
4" Rubber
500#
EU2-1836Z
38.0
143.25
EU2-1836C
38.0
144.65
24"x36"
5" Rubber
500#
EU2-2436Z
45.0
162.30
EU2-2436C
45.0
167.75
3 Shelf Models
18"x30"
4" Rubber
500#
EU3-1830Z
41.0
172.75
EU3-1830C
41.0
175.00
18"x36"
4" Rubber
500#
EU3-1836Z
45.0
177.25
EU3-1836C
45.0
178.65
24"x36"
5" Rubber
500#
EU3-2436Z
58.0
200.85
EU3-2436C
58.0
209.90
Heavy Duty - 800# Capacity
2 Shelf Models
18"x36"
5" Rubber
800#
U2-1836Z
38.0
156.40
U2-1836C
38.0
158.25
18"x42"
5" Rubber
800#
U2-1842Z
41.0
163.65
U2-1842C
41.0
167.75
24"x36"
5" Rubber
800#
U2-2436Z
46.0
170.45
U2-2436C
46.0
177.25
24"x42"
5" Rubber
800#
U2-2442Z
50.0
181.80
U2-2442C
50.0
189.95
24"x48"
5" Rubber
800#
U2-2448Z
52.0
185.00
U2-2448C
52.0
193.15
24"x60"
5" Rubber
800#
U2-2460Z
62.0
206.30
U2-2460C
62.0
211.25
3 Shelf Models
18"x36"
5" Rubber
800#
U3-1836Z
48.0
188.60
U3-1836C
48.0
191.35
18"x42"
5" Rubber
800#
U3-1842Z
52.0
200.40
U3-1842C
52.0
206.75
24"x36"
5" Rubber
800#
U3-2436Z
59.0
209.90
U3-2436C
59.0
217.60
24"x42"
5" Rubber
800#
U3-2442Z
65.0
226.70
U3-2442C
65.0
239.45
24"x48"
5" Rubber
800#
U3-2448Z
68.0
230.29
U3-2448C
68.0
243.00
24"x60"
5" Rubber
800#
U3-2460Z
83.0
262.50
U3-2460C
83.0
270.20

3 Shelf
With Solid Stainless Steel Bottom Shelf
18"x24"
4" Rubber
500#
-
-
-
EU3-1824CS
36.0
258.25
18"x30"
4" Rubber
500#
-
-
-
EU3-1830CS
39.0
267.40
18"x36"
4" Rubber
500#
-
-
-
EU3-1836CS
42.0
280.35
Back to Material Handling Products

Back to Home Page

Last updated 2/26/18
Copyright equipmentandsupply 2014